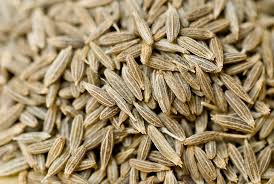 Cumin is a very small annual plant. Its sanskrit name Jiraka literally means 'promoting digestion'. It is a good tonic for diseases of the digestive system.
Benefits of Cumin: Bloating, indigestion, dyspepsia, diarrhoea, chest tightness, diseases of female reproductive system, anti-bacterial.
Action: Carminative, antispasmodic, stimulant, diuretic, antibacterial, emmenagogue, galactagogue.
Scientific name: Cuminum cyminum.
Useful part: Seeds.
Dosage: Fruit—1-3 g powder.
Energetics
Rasa (taste): Pungent, bitter
Vırya(energy): Cooling
Vipaka (post-digestive effect): Pungent
Guna (quality): Light, dry
Dosa effect: VPK=, P+ in excess
Dhatu(tissue): Muscle, blood, plasma
Srotas (channel): Digestive,respiratory
Classical and common names
Ayurvedic: Shveta-jiraka, Ajaaji.
English: Cumin.